Further tests
See this information in a language other than English.
About 1 in 20 women are asked to come back for further breast X-rays. These X-rays will focus on the area of the breast that needs to be examined in more detail. If this is necessary BreastScreen WA will contact you to make an appointment.

This service is free and rural women may be eligible for assistance from the Patient Assisted Travel Scheme (PATS).
Further tests - What does this mean?
The majority of women recalled for further tests have a normal outcome (do not have breast cancer).
Why have I been recalled?
It is not unusual to be called back for further breast X-rays. Common reasons for recall include:
A mammogram is an X-ray of your breast tissue. Uneven distribution of breast tissue can look like an abnormality. Further X-rays may help to identify a dense area as normal glandular tissue.
A round density with clear edges is usually a cyst or benign (non-cancerous) lump. If the edges are not clearly seen further tests may be needed.
Flecks of calcium (calcification) are seen on the mammogram in many women and these calcifications are usually normal. However, irregular groups of calcification may be the earliest sign of cancer and need further tests.
A previous operation on the breast may have caused a scar. Scar tissue makes X-rays more difficult to read and you may need some further tests.
Skin markers which show up on the X-ray may be placed over areas of scarring, moles or symptomatic areas in the breast to assist the radiologist in studying the X-rays.
How will I find out the results of the further breast X-rays?
BreastScreen WA will telephone you to let you know the results of your mammogram. Additional tests may be recommended and those tests will depend on the appearance of the mammogram. Feel free to ask as many questions as you like, so you understand why you have been recalled.
If you require additional tests, you will be offered an appointment at a BreastScreen WA Breast Assessment Centre for your further breast tests. This service is free and rural women may be eligible for assistance from the Patient Assisted Travel Scheme (PATS). Please talk to your GP/family doctor for more information.
Old images
Please keep all mammograms and breast ultrasound examinations that you receive. Old images can be a great help to the radiologist to show that a possible area of concern on your current mammogram is a longstanding finding of no concern.
Results to your GP
If you have nominated a GP (and we encourage you to do so) a letter will be sent informing them of your further tests appointment. A letter with the results of the assessment visit will also be sent.
What further tests may be necessary?
Most changes detected by a mammogram are too small to feel in the breast and require special tests. These tests can include:
Clinical breast examination
Should you require a clinical examination after your films have been examined by the radiologist; a female breast physician will perform a thorough examination of your breasts and talk to you about your medical history.
This is a test using sound waves (not radiation) to show more detail of the breast tissue. The breast is covered in gel and a probe is pressed against the skin.
Diagnostic further view mammography
This involves additional mammograms of the breast where there is an area of clinical interest.
Breast Tomosynthesis / 3D Mammography
Three-dimensional mammography (also called digital breast tomosynthesis) uses special computer software to create a 3D image of the breast using X-rays (mammograms) taken at different angles. A standard mammogram creates a two-dimensional (2D) image of the breast.
BreastScreen WA uses 2D Mammography in screening because there is no evidence that 3D Mammography is superior in reducing mortality from breast cancer. BreastScreen Australia, is actively reviewing the published medical evidence on 3D Mammography, and future decisions on breast cancer screening technology will be based on the best robust medical evidence as that evidence emerges.
Fine needle aspiration (FNA)
A fine needle is used to take a few cells from the breast and these cells are looked at under a microscope. A local anaesthetic may be given to you. If the area of interest cannot be felt, FNA can be done using ultrasound or X-rays to guide the needle. The results may be available on the same day.
A needle is used to take thin samples (cores) of breast tissue under ultrasound or X-ray control to be examined under a microscope. A local anaesthetic will be used. The tissue will be examined by a pathologist and these results will be communicated to you by the breast physician or your GP.
Sometimes after an X-ray guided biopsy has been performed it may be necessary to mark the site of the biopsy with a tiny metallic marker clip. More information on marker clips.
Can all cancers be detected by these tests?
Most breast cancers will be diagnosed, but no test can guarantee the detection of all cancers. It is important for all women to follow up any recommendations made.
Breast Assessment Centres
These are multidisciplinary Specialist Centres where you will receive expert assessment and management by a team of radiologists, pathologists, nurses, radiographers, breast physicians and surgeons.
All appointments are scheduled in the morning. You may need to allow up to 8 hours for your full assessment. Please let the clinic staff know if you require a medical certificate for your employer.
Please bring money for parking. Alternatively, please phone Transperth on 13 62 13 for public transport options.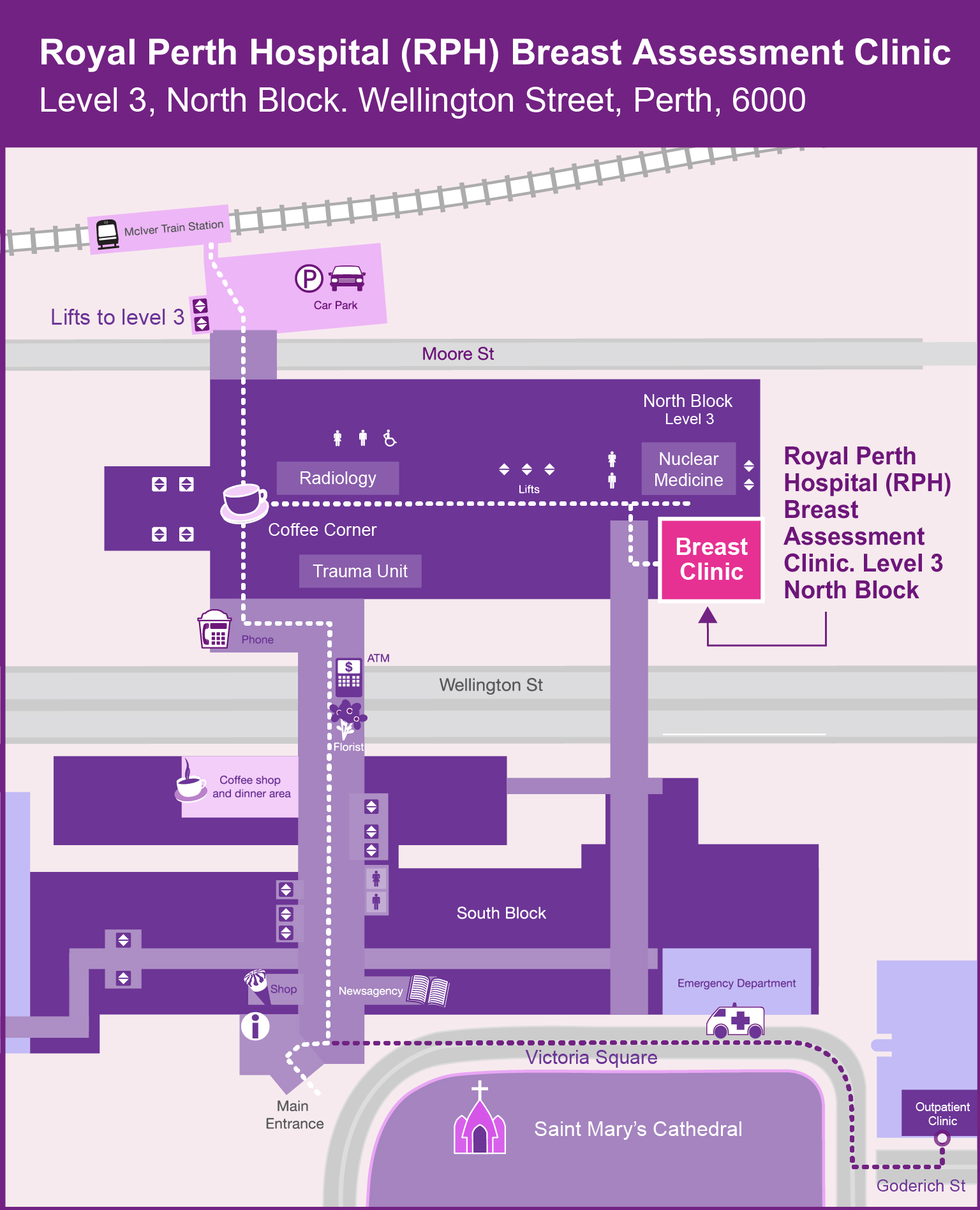 Royal Perth Hospital
Breast Assessment Clinic
Level 3, North Block
Wellington Street, Perth, 6000
Tel: (08) 9224 2723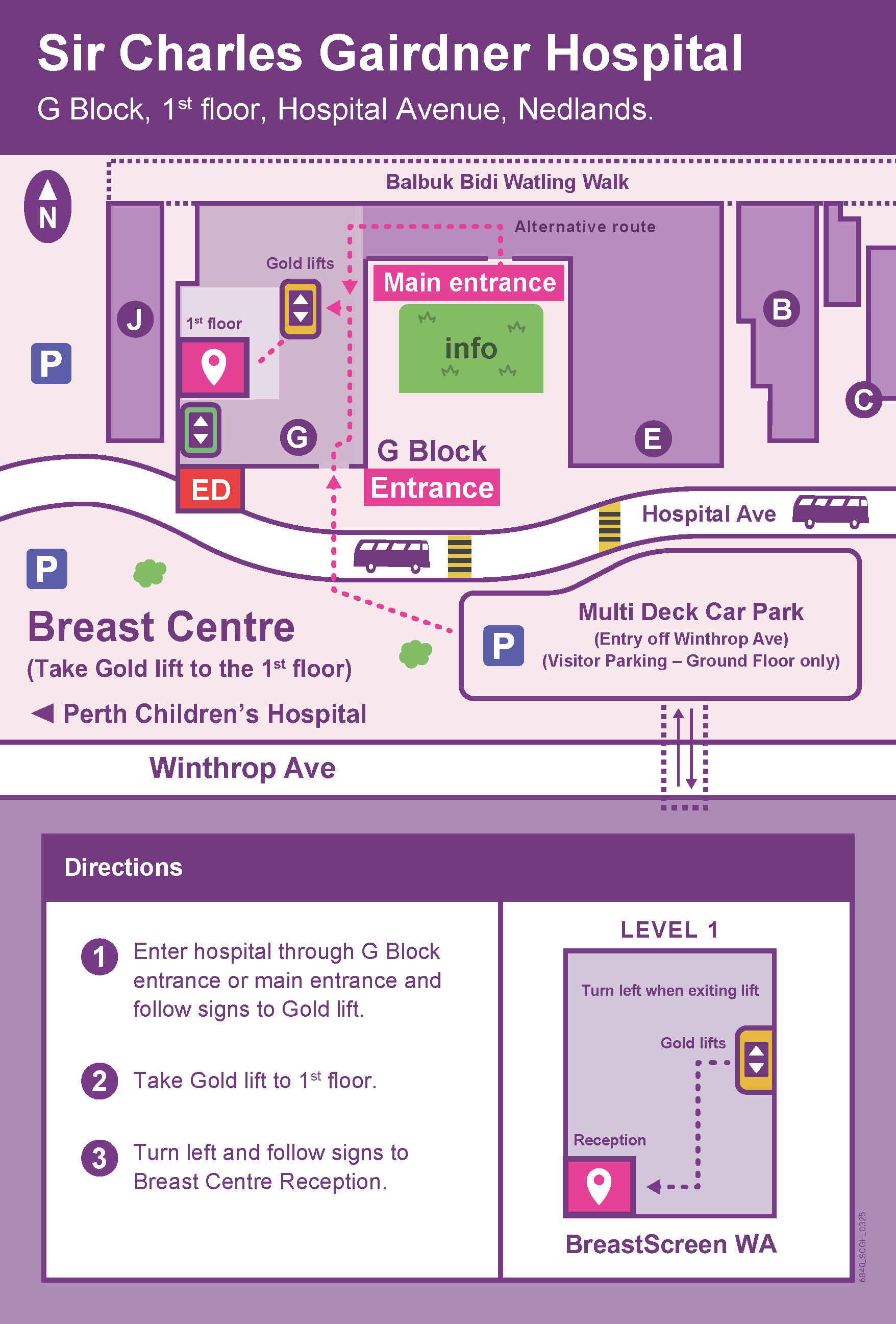 Sir Charles Gairdner Hospital
Breast Assessment Centre
G Block, 1st Floor (take GOLD lift to the 1st Floor)
Hospital Avenue, Nedlands, 6009
Tel: (08) 6457 4590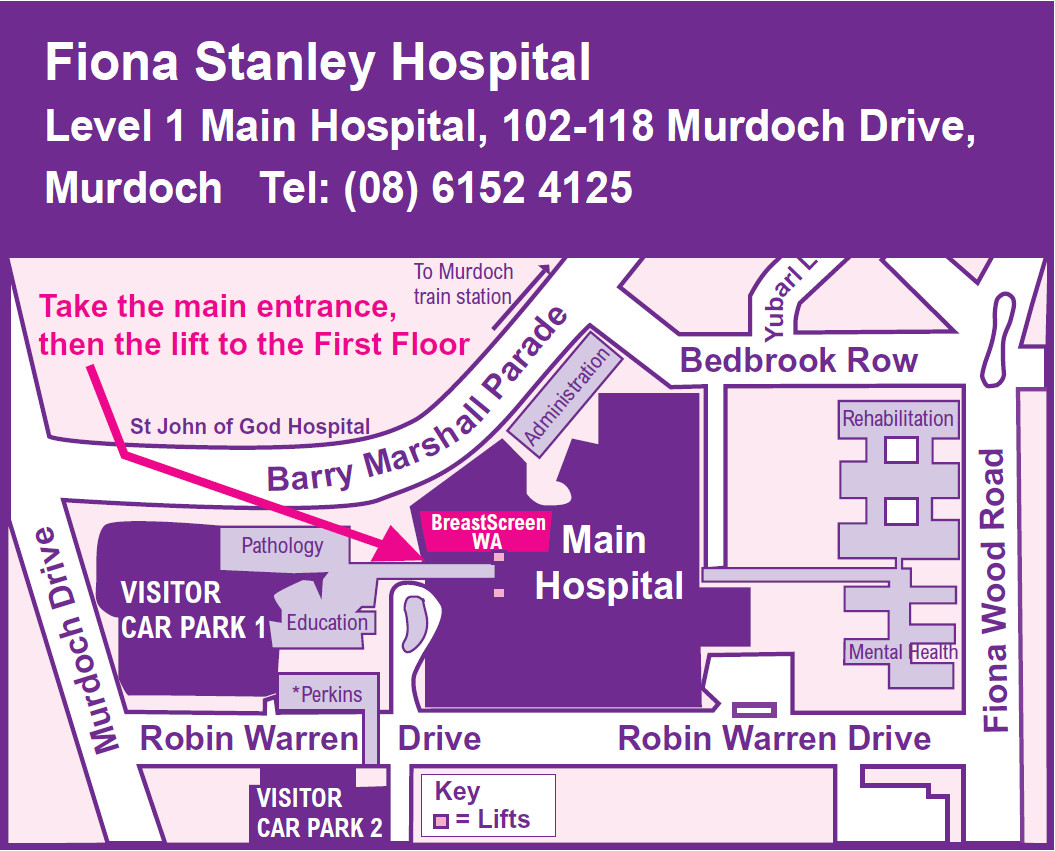 Fiona Stanley Hospital
Breast Assessment Centre
Level 1 Main Hospital
11 Robin Warren Drive,
Murdoch, 6150
Tel: (08) 6152 4125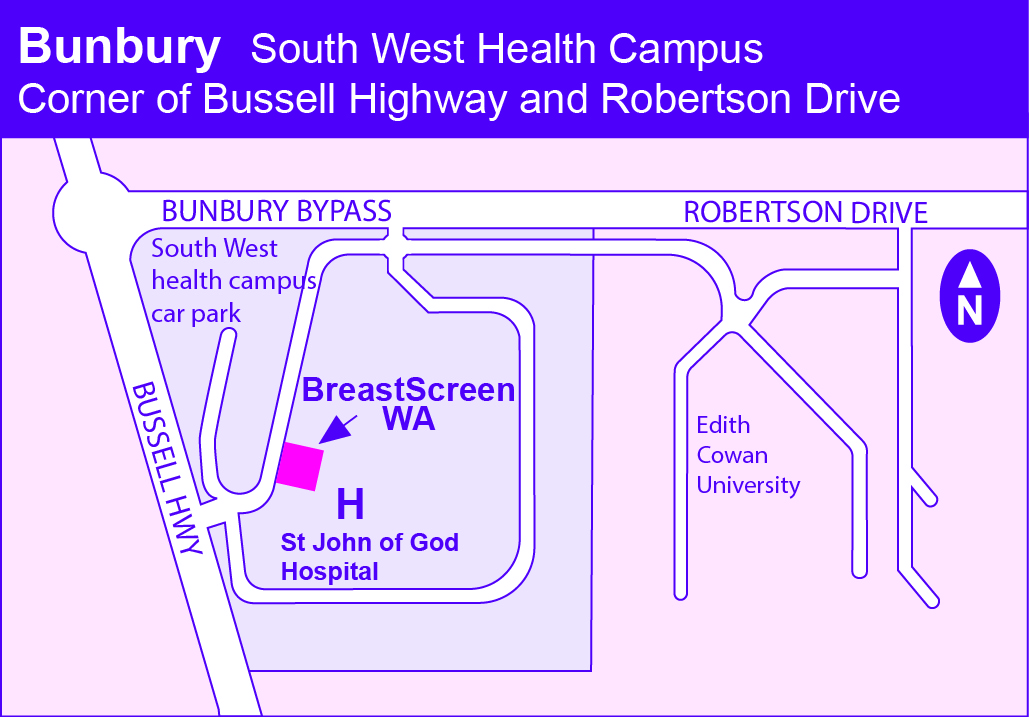 Bunbury Assessment Centre
South West Health Campus
Corner of Bussell Highway and Robertson Drive,
Bunbury, 6230
Tel: (08) 9792 2400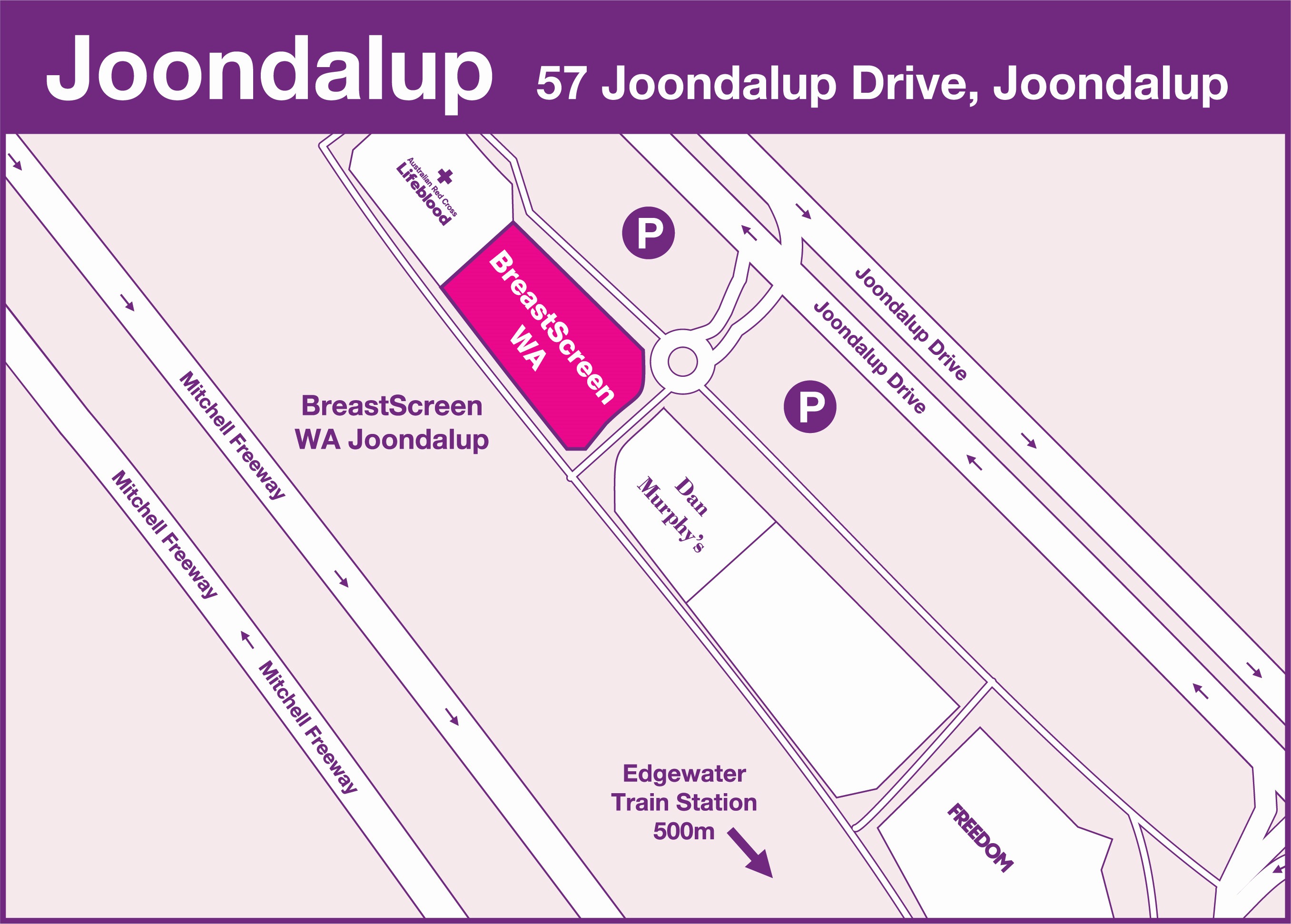 Joondalup Screening and Assessment Centre
57 Joondalup Drive,
Joondalup 6027
Tel: (08) 6373 8777